Get a Grip – The Farmer's Walk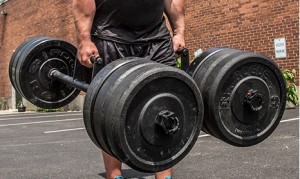 A golfer's grip on the golf club needs to be strong and stable in order to handle the force produced by their legs and torso. If your grip and forearms are not strong enough to handle this power, then you can lose accuracy and control. There must be a fine balance between a relaxed grip and "death grip." There are a few articles out there about using dumbbells to strengthen forearms. You can purchase fancy grippers to increase your grip strength. You may even go as far as carrying a racquetball or something to squeeze as you drive in your car. No matter what you choose help increase the strength of your grip, you will still need to make sure that you prescribe a number of sets and reps. You will need to plan your rest as well.
While it may be good to address grip by itself as an exercise, it may be more effective to take a step back and see if there is something that you already do that will help increase your grip strength. Just holding a weight in your hand, will automatically engage the muscles in your hand. Even though you are picking up the weight to do a different exercise (dumbbell bench press, rows, bicep curls, etc.), you still need to be able to HOLD the weight. In fact, it will be your grip that will give out before your larger muscles begin to fatigue.
So a simple way to increase your grip strength naturally is to be aware of the amount of tension you are creating to hold the weight. If you are using OTHER muscle groups to keep the weight in your hand, then you are not strengthening your grip any more. One of my favorite exercises to increase my grip strength, shoulder stability, core stability, as well as drive my heart rate up is the Farmer's Walk.
How to perform the exercise
Simply pick up a heavy weight (dumbbell, kettlebell, heavy suitcases, bucket of rocks, water, dirt, etc.).
Choose weight that you realistically can only hold for about 20 seconds, before you have to put it down.
Walk around with good posture, until you need to put the weight down.
Perform this exercise for 2 to 5 sets, and work your way up to 1 minute. When you can walk around with good form for longer than a minute, it is time to increase the weight.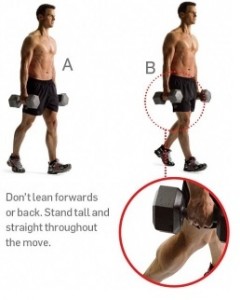 For all Questions related to Aerobic Training Programs, golf fitness, nutrition, and your mental game email me at [email protected]