In today's culture of youth sports, athletic specialization is becoming the norm and the days of the three sport youth athlete are almost extinct. Golf or whatever your child's sport of choice is, it is so important that they stay "athletically well-rounded" to reach their full potential. Early specialization of one sport can stunt long term athletic development. Many parents think that early specialization of golf or another sport may be putting their child ahead of the competition, but the consequences of early specialization can have a profound negative effect on athletic development. These consequences could be physical imbalances, overuse injuries, poor fundamental movement, and most commonly, the burnout effect.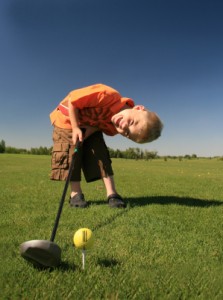 The mind set of youth sport needs to shift from making your kid the next Tiger Woods or Annika Sorenstam, to allowing your child to develop into a solid, well-rounded athlete. The former cannot happen without the ladder. The science behind long term athletic development is complex from both a physiological and neurological stand point. Simply put, a young athlete must develop fundamental movement skills before they can begin to master their fundamental sport skills. Examples of fundamental movement skills are agility, speed, coordination, balance, object control skills, and awareness. If these crucial athletic features are bypassed, the potential of the developing athlete will become limited.
So please, allow your developing child to become a well rounded athlete. Encourage them to play a collection of sports that involve swinging, kicking, throwing, swimming, running, and catching. If they are meant to be a professional golfer, football, basketball, or baseball player, they will already have had the built-in intangibles necessary to rise to the cream of the crop. Those intangibles are there at birth and will develop along with your child's love of their sport.
For any questions about long term athletic development strategies and programs, please contact me, Jason Rivkin, directly at [email protected].
Jason Rivkin, ATC