It has been a very exciting time in the golf world lately! The Masters finished up and a new star was born.   Jordan Spieth took his first green jacket and the number one spot at the Masters.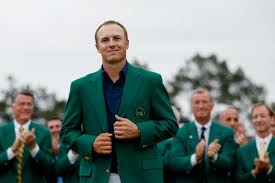 It is difficult to think this 21 year old ever had swing faults.  But he did, and lots of practice really paid off.  Many athletes are born with natural talent however, it is also extremely hard work to make it to the top and then maintain that spot.
Back in 2006 Spieth partnered up with his current trainer, Cameron McCormick.   McCormick saw right away that Spieth's swing was steep and this produced a reverse pivot.  Spieth also had a tendency to slide his hips during the back swing instead of rotating.
McCormick accredited these swing faults to immobility and weaknesses within Spieth's glutes, quads, hamstrings, core, and his lower back.  The main muscles that are firing during the swing.  After 9 years together, extensive training, and a better mind to muscle connection McCormick has created a Master!
Everyone has to start somewhere.  Look at Rory McIlroy, he has been working with his trainer, Steve McGregor since 2010.  When McGregor first worked with McIlroy it was very apparent that there were a few issues.
McIlroy has been swinging a club since he was a toddler without a large focus on his own physical fitness.  Instead he had been relying on his natural athleticism.  This worked for him, for a period of time.  McIlroy, you see without the proper physical training he was actually creating a problem for himself.  This led to an injured lower back from overuse and an imbalance in strength between his left and right side
McGregor worked on core and back strengthening along with more single arm and single leg exercises.  After a short 5 years with his trainer, McIlroy is sitting pretty as a top golfer with an increased club head speed, more distance with his driver and being able to hit the ball harder without losing his balance.
There is a lot of scientific evidence out there that suggests strong and physically fit people have a higher level of self confidence, self worth, and physiological well being.  Knowing what your personal weaknesses are can go along way to making you into the strongest and most confident individual you can be!
Contact your local FitGolf Performance Center to find out what your fitness handicap is and how you can get started on your most powerful swing!