Golfers' Shoulder Pain – Role Reversal
Fixes and Prevention
By now I hope you are seeing a trend…that there are only a few problems responsible for most of the shoulder injuries and swing faults golfers experience. It is very simple: Improve thoracic mobility, scapular stability, shoulder joint strength and mobility, and fix the alignment. Simple, right? Here is the process.
Improve Thoracic Mobility – This process can be easy. You will need to improve forward and backward bending, and rotation to improve flexion and extension, lengthen the muscles and tissues on the chest, and strengthen the spinal muscles in the upper back. The stretching is easy. There are a variety of chest stretches from over the ball, to over a foam roller, to just a static back position…see the pictures below. When doing these stretches you must be careful to not cause pain in the shoulder joint. The spinal muscles in the upper back are easy to get to. You can do rolling activities, or prone extension. Again see the pictures below.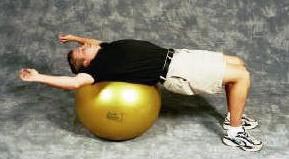 When your flexion and extension improve, it is safe to begin working on rotation. If we work on rotation before we improve flexion and extension, there is a good possibility that the rotational movements will cause lower back pain. This is because a thoracic spine stuck in flexion cannot rotate efficiently or effectively and, as a result, will put pressure on the lower back. To improve rotation in the thoracic spine try the side lying trunk rotation. Once again you must be careful to not irritate the shoulder joint. Once you have stretched, try seated rotation without resistance.

Now strengthen the shoulder and shoulder blade muscles. To do this try the reach roll and lift as in the picture below. You can also try the shoulder rotation exercises called external rotation, first sitting then standing. After mastering these move onto more advanced shoulder exercises like I's, Y's and T's.  Do all of these exercises in sets of 8 to10 repetitions.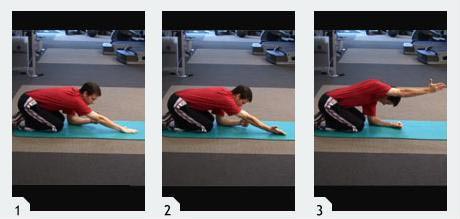 Try the exercises noted above to see what happens. The bottom line is that if you do not improve within a week to ten days doing these on your own, you probably will need help from a golf fitness professional who has the knowledge of the areas noted in the previous paragraph. If you want to have us look at this, email us pictures of you: standing with your back against the wall and arms overhead and straight, touching the wall, and with arms in a 90/90 position as shown in the picture below. Once we see these we might be able to guide you to a solution.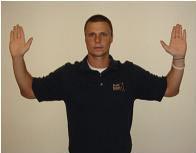 if you have any questions, please feel free to email them to me at [email protected].
Here's to your healthy shoulders and good golf.
Dave