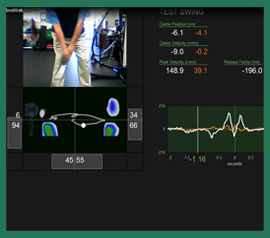 BodiTrak Balance and  Weight Transfer Analysis
Do you want to know how your body is compromising Consistency, Accuracy, Distance and Score.  Are you having back pain with golf and wonder why?
Sign up for our BodiTrak Balance and Weight Transfer Analysis in one of our centers nationwide and find out how your swing is affecting your body and how your body is affecting your swing.
BodiTrak, a cutting-edge technology designed to help you understand how you transfer weight, measure your balance distribution and look at speed and pattern of body weihgt movement in your golf swing.
With BodiTrak we assess and provide you with:
Pressure distribution map

Center of Pressure Trace

Balance distribution, left and right feet

Balance distribution, heel and toe

Acceleration of center of pressure
With these metrics we can help you improve your balance and weight transfer leading to a more powerful and repeatable swing.
Complete the form below to get your BodiTrak Analysis.