Learn to Play continues mastery of movement skills and introduces golf specific skills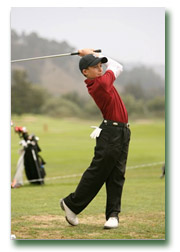 Continued development and mastery of fundamental skills. Add more advanced skills.

Skill acquisition is 70% of this phase.

Monthly screening for Fundamental and Sports Skills to track progress.

Promote endurance and speed with fast moving games.

Weight and length of golf clubs still critical.

30% of activities use body weight, medicine balls, and swiss balls to develop stability.

Dynamic warm-ups for mobility.

9 holes of fun, on-course activities each week.

Minimum of 2 sessions a week at 90 minutes each.

Golf shots, green reading, face alignment, course management and score keeping introduced and practiced.

30% competition : 70% training.

Limit child to two to three sports.

Males 8-11 years old, females 9-12 years old.
---
Train to Play is the critical phase of learning golf skills.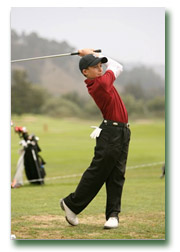 Children are physically literate and excel FMS and FSS

Growth spurts happen here.

Focus on speed, power and strength and leverage the second speed window.

Fitness is 40% of the training. Includes body prep, mobility, stability and strength, cardiovascular conditioning and recovery activities.

Play 36-54 holes each week and practice 2-3 times a week.

Practice golf skills 20-40 hour each week including playing time.

Custom fit clubs are appropriate.

Competition 60% : training 40%.

Have a USGA handicap and play 6000 or more yard courses.

10-12 competitions per year.

Know the rules, and have good control of their own game.

Limit other sports to two.

12-16 years old for males, and 11-15 for females.